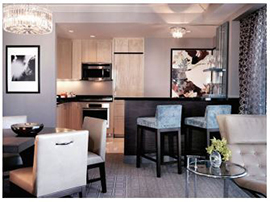 All the attributes that make Jonathan Baron Interiors a success in lobby design, hallway design, and residential interior design help the team shine in world of hotel design.
Jonathan works closely with all stakeholders to reach agreements that ensure enduring satisfaction. He personally directs all planning, design, and installation activities from initial concept to final punch list. Clients can rely on his decades of expertise to create a functional and exquisite interior that will delight guests from across the globe.
Why Should You Choose Jonathan Baron and His Team to Design Your Hotel Interior?
The minute you meet Jonathan, you know you are a top priority. His commitment to his clients is unwavering and immediately apparent. Jonathan combines his commitment to his clients' goals with his passion for design and your vision and requirements to craft a one-of-a-kind space. Learn more:
Beautiful, lasting materials that are well-priced
Reliable support teams that employ proven methods to complete each project
Elegant style that enriches each building's characteristics
Red-carpet level of client service in each step of the process
Explore the Jonathan Baron Interiors portfolio
See what our clients are saying
---

Contact Jonathan Baron today for a consultation